Learn the Art of Seated massage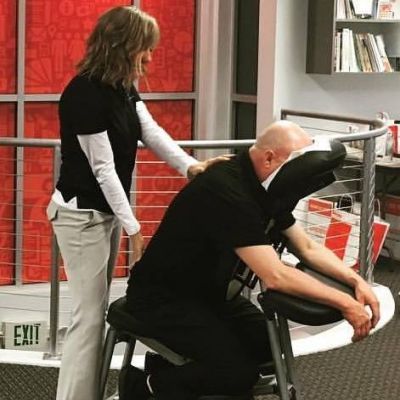 I was very lucky to be trained one on one by some of the most experienced, talented and passionate body workers in Salt Lake City at Eagle Gate College. I devoured every ounce of knowledge that was offered. I couldn't get enough, I cant get enough! I love everything about anatomy and physiology and the various techniques of manual therapy, I couldn't wait to start working.
I obtained my Professional license and a very cool job at Incorporate Massage immediately after graduating in February 2014. Incorporate massage is a corporate chair massage company that would send me to various tech companies all over Utah. I fell in love with the culture and the people and I knew that Chair massage had the potential to be one of the most sought out modalities if only more specific technique training could be offered.
It was During this time that I was continuing my education at the Rolf Institute of Structural Integration®. in Boulder, Colorado, It was a perfect combination because a Rolfer™ often works with clients in an active seated position. I would take the new techniques and concepts I learned from the RISI and I would practice them on my corporate chair massage clients, delivering great results.
Now as I continue to learn new modalities concepts and techniques I adapt them into Unique; effective; yet simple chair massage strategies allowing me to create a very unique Corporate Chair Massage NCBTMB Continued Education certification program that I am currently offering to any Licensed Massage Therapist or Massage student!
As Big tech companies continue to move into Utah turning us into the Silicon Slopes, the need for chair massage therapists is on the rise. Why? Its Fast, efficient, and cost effective. Its gender, age and size neutral. It adds an element of wellness and humanism that otherwise would be lacking.
Chair Massage is the wave of the future!